Good morning, everyone... I hope you all had a wonderful weekend! I'm excited to say that the Food Summit folks have released an encore presentation of some of the top speakers. Take a listen, while things are still free! Here's the lineup:
Paul Gautschi, Sustainable Farmer for 55 years; Documentary Star, Back To Eden
Grow Your Own Healthy Food Easily by Modeling Mother Nature
Growing organic food sustainably and simply.

Why you don't have to water your garden!

Picking and eating seasonal foods the natural way.

Tips on how to eat more raw and live foods.
Joel Salatin, Sustainable, Maverick Farmer; Lecturer; Author
Why Our Current Food System "Just Ain't Normal" and How to Change It
Joel has authored such books as Folks, This Ain't Normal, You Can Farm and Salad Bar Beef.

The farm as a romantic, magical place of awesome mystery and beauty.

How to promote the cowness of a cow and the tomatoness of a tomato!

Why decomposition keeps us alive.
Paul Stamets, World-renowned Mushroom Researcher; Inventor; Entrepreneur
How Mushrooms Created, and Can Save, the Living World!
Paul fell in love with mushrooms and became the world's authority on them!

Humans have 100 trillion cells in their body, 90 trillion of these are non-human cells--we're outnumbered!

The importance of mushroom mycelium as our planetary immune, nervous and digestive systems

Mycelium as the keystone group of organisms and foundation of the food web.
Marjory Wildcraft, Training Course Creator, Grow Your Own Groceries
Growing Your Own Food for Self-Reliance
Marjory's DVD has been used by 300,000+ people around the world!

Why Marjory is called the "most dangerous woman in America".

Grow, prepare and preserve your own food and medicine in less than one hour a day!

Cha-ching! Why growing your own food is like printing money.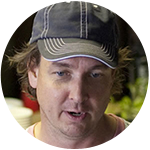 Mark Forman, Master Composter, Teacher
How to Build a Simple Home Composter to Supercharge Your Garden Soil
How Mark stumbled into composting, then told the world!

Using kitchen and yard scraps to boost soil fertility.

The different ways to compost in your backyard.

How Mark's children never knew soup came in cans!
Click here to register, if you haven't already. If you've missed any of the presentations and want to buy the series of 34 interviews (and all of the bonus material that comes with it!) while they're still on sale, click here. It's $47 for the download, and $67 if you want them to send it to you on an 8GB flash drive.
*Disclaimer: I am an affiliate of the summit, and would receive a small commission on any purchases made through that link. That being said, these are some really knowledgeable speakers sharing a ton of great info, which is why I chose to promote the summit rather heavily while it was available for free.
While you're checking them out, I'll be clacking away over here on the keyboard, getting things ready for this week. More to come shortly!